SAP Enterprise Portal
Neuro Systems' experienced Portals experts provide our clients with a fast and cost-effective implementation. We leverage our business processes, collaboration tools as well as our R/3, BW and Workplace expertise to create an integrated, role-based Portal with relevance of content for your employees, customers and suppliers.
Enterprise Portals are fast becoming an essential portion of an organizational IT landscape. The Enterprise Portal from SAP allows you to extract additional valuable return on investment from your existing assets by accelerating event resolution and increasing business insight. Realizing the increasing importance of Enterprise Portals we have set out to create a core competency in the area with expertise in all areas of an Enterprise Portal implementation including the Portal Platform, Knowledge Management Platform and Unification Platform.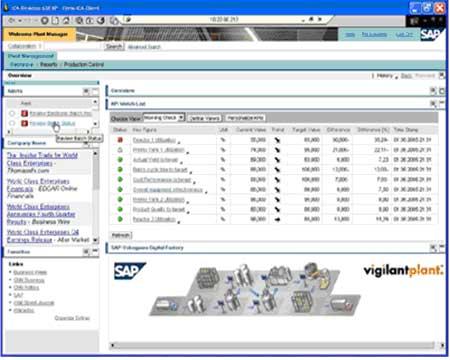 Implementation
The result of many years of successful implementations and countless hours of experience, Neuro Systems provides its clients with the roadmap to success. We combine the tools, accelerators, and best practices we've gleaned over the years with the Accelerated SAP methodology to provide businesses with the best possible approach to their portal implementations. Some of the tools and accelerators within our methodology are:
Project plans based on the ASAP methodology incorporating our experiences and best practices.
Workshop agendas for custom training.
Questionnaires for fact gathering and blueprinting.
End-user procedures.
Technical procedures.
User training documents.
Standardized and consistent project administrative procedures.
xApps Development - CAF (Composite Application Framework)
xApps, or cross applications, are business applications developed in Java and based on SAP NetWeaver platform. The applications are designed to run on top of existing, heterogeneous IT systems - integrating them into cross-functional, end-to-end business systems that let you execute enterprise-wide strategies with greater ease and efficiency.
xApps packaged composite applications - such as SAP xApp Resource and Portfolio Management (xRPM), SAP xApp Product Definition (xPD), SAP xApp Cost and Quotation Management (xCQM), SAP xApp Manufacturing Integration and Intelligence (xMII), etc. - enable continuous business innovation - and provide the flexibility necessary to respond quickly and profitably to business change without disrupting existing IT investments.

For companies
Willing to outsource development of custom xApps

Who run or consider SAP solutions

Who are concerned with the challenge of getting value from disconnected silos of multiple third-party business applications
Neuro Systems offers an indepth expertise of SAP NetWeaver experience and the full scope of services covering the development life cycle of xApps - a new breed of packaged composite applications that snap on to existing (heterogeneous) IT environment to orchestrate new, cross-functional business processes.
Supplier Relationship Management
Achieving profitable, organic growth is not a simple task and attracting and keeping profitable Supplier relationships is becoming harder every day. With increasing acceleration, companies are challenged by quickly changing business models, globalization and deregulation with regards to their Procurement Models. Today, companies are looking for technologies to provide sophisticated solutions designed to achieve effective Supplier Enablement, satisfaction and profitability. At Neuro Systems, we believe that achieving successful SRM is about understanding your supplier, exceeding their abilities of service and delivery and providing value to secure your Return on Investment (ROI).
The simple truth is that it involves much less effort and is more cost effective to retain an existing customer than it is to recruit a new one. With the proper tools and business processes, the opportunity to secure customer loyalty, expand product and services footprints and capture new business from competitors, without a customer loyalty program, has never been better.
SRM is the most important initiative a company can undertake with the highest return on Procurement. Likewise, it can be one of the more expensive and punishing to an organization if not approached properly. Those companies that have derived the most value from their SRM investments have focused on some very fundamental issues.
Master Data Management
Master data is the bottomline of all business applications. Master data, such as vendor number, customer number etc allows you to integrate data together across various applications and obtain an enterprise-level view of information. Therefore, the quality with which master data is modeled has a tremendous impact on businesses.
Unfortunately, most companies face the situation of inaccurate or inconsistent master data within an application and when linking data together for an enterprise view of information. Inaccurate or inconsistent master data leads to a company's inability to understand its current and future business problems. Quantifiable costs associated with decision making based on problematic master data can be measured in lost profits, operational delays, customer dissatisfaction and much more.
Neuro Systems has depth and breadth in terms of modeling master data. Our consultants have years of industry specific experience and thoroughly understand the concepts of data modeling and data management. Neuro Systems will provide you with services to create an effective Master Data Management solution. We are committed to partnering with our clients and intend to help you better understand your master data, its impact on your business environment, and develop ways for you to maximize profitability and reduce costly operational inefficiencies through improved master data management.